Before I Arrive
The Del Mar Fairgrounds – 2260 Jimmy Durante Blvd, Del Mar CA
Parking for The Sound is located in the Del Mar Fairgrounds and costs $15.  Please enter through the Main Gate only. The Sound shares the parking lot with the Del Mar Fairgrounds and parking is on a first come first serve basis.  If you know another large event is happening in the Del mar Fairgrounds on the day of the show you may want to alter your arrival time or use alternative transportation such as an Uber or Lift.
Limited Premium parking is located directly in front of The Sound and is available online (for most shows) for $30 via Ticketmaster.  You must purchase Premium parking in advance–it is not available for purchase at the event.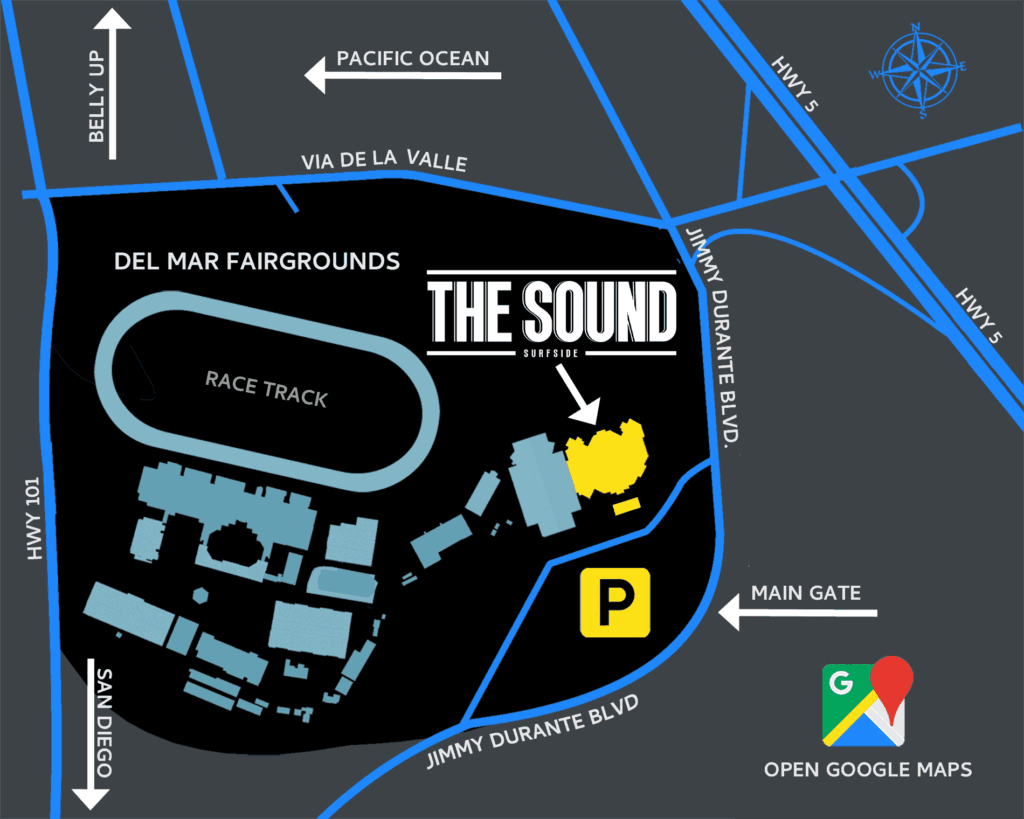 Our box office is only open on the evenings we have a show and will open 90 minutes before doors.
At this time all our tickets are purchased online. You can print your receipt and online ticket, but we will not send you a physical ticket.
Yes, you may bring a small bag. However you may not bring in backpacks or bags larger than 10″ by 8″ by 8″. Small purses and fanny packs are allowed, but subject to search.
Security reserves the right to search bags, perform pat-down checks, and refuse/revoke entry at their discretion. 
Please check the event detail page to find out if there are any age restrictions for a particular event.  All guests under the age of 18 must be accompanied by a parent, guardian, or responsible adult over the age of 25 with written authorization.
All shows will have ADA seating available for purchase. They are located in the central terrace as well as the left and right balconies
Click here to see our seating chart. ADA seating is notated with wheelchair emblems for easy identification.
You can purchase tickets on the day of the show at the box office. However, available tickets are not guaranteed. We encourage all guests to buy tickets in advance.
We also advise that you only purchase tickets online from thesoundsd.com (via Ticketmaster / Ticketmaster verified resale) and do not purchase tickets from a third party website.
Our box office is only open on the evenings we have a show and will open 90 minutes before doors.
Door and show times are listed on the ticketing page for each show. Shows usually, but not always, start one hour after door time. We urge patrons to show up close to door time to get the most out of their ticket purchase.
Yes, but no flash photography! Also large cameras with long telephoto lenses are not allowed. Your camera and accessories must all be able to fit in a bag smaller than 10″ by 8″ by 8″
The Del Mar Fairgrounds Main Gate.
While At The Sound
Yes! The Sound offers a variety of food options to satisfy your hunger before or during the show. Enjoy our delicious tacos on the mezzanine level or grab a quick bite from our rotating menu in the lobby with items like loaded nachos and carved sandwiches.
There is no re-entry into the venue grounds (excluding the smoking area). Once you have left the front courtyard to get to the parking lot, there is no re-entry.
General Information
Patrons purchasing tickets through third-party ticket brokers assume full risk for potentially fraudulent tickets purchased or obtained through unauthorized vendors. The Sound has no way of validating or replacing tickets that were not purchased through us (Ticketmaster) directly. We cannot reprint or refund you for an invalid ticket purchase.
Please contact the venue by emailing boxoffice@thesoundsd.com with your name, contact information, and a description of your item and we will do our best to find and return your item to you. Please be sure to put LOST ITEM and SHOW DATE in the subject line of your email.
If an event is canceled, no action is required to obtain a refund–we will issue a refund to the original method of payment used at time of purchase. Refunds will be issued within 5-7 business days of the show cancelation.
Yes
No weapons of any kind.

No outside beverages.

No drugs or illicit substances.

No smoking or vaping inside the venue.

No unauthorized/unlicensed vending, soliciting, handbills, sampling, or giveaways.

All served beverages must remain inside the venue and courtyard

No flash photography.

No moshing, crowd-surfing, or stage diving.

No pets allowed 

No backpacks or large bags. Small purses and fanny packs allowed but subject to search.
Security reserves the right to search bags, perform pat-down checks, and refuse/revoke entry at their discretion. These reasons include intoxication, disturbing hygiene, engaging in hate speech, belligerent or noncompliant behavior, acts or threats of violence, disturbing other guests, etc
Items not permitted inside The Sound (but are not limited to):
– Weapons, firearms, knife
– Laser pens
– Pepper spray/mace
– Signs, banners, flags
– Selfie sticks
– Video cameras/recording devices
– Outside food and beverage, including alcohol
– Glass, cans, aluminum bottles
– Hoverboards and skateboards